Microtransit in Minnesota
Exploring Microtransit Service as a national trend and in Minnesota
Published on: October 29, 2021
Over the past few years, the transit industry has slowly been hearing the term "microtransit" being mentioned. It's a growing trend in transportation, but what exactly is microtransit? This article explores the definition of microtransit, the history and development, the associated pros and cons and a glimpse at two Minnesota transit agencies that have implemented this service for their customers. 
What is "Microtransit"?
Although microtransit can be a little difficult to define since the concept varies from location to location, the basic definition is that microtransit is a mixed form of demand responsive and fixed route transport, which relies on technology as its driving force.
SAE International describes microtransit as "a privately or publicly operated, technology-enabled transit service that typically uses multi-passenger/pooled shuttles or vans to provide on-demand or fixed-schedule services with either dynamic or fixed routing."
National RTAP describes microtransit as "Tech enabled shared transportation that lives in the space between traditional fixed route transit and ride hailing technology."
History of Microtransit
The concept of providing flexible transit service in smaller vehicles is not new. The terms "flexible routing" or "dynamic routing" have been used for a long time. However, the term "microtransit" has come about only in the past six to seven years. Why? Microtransit often relies on data and technology to power its service. Using software, agencies can geo-localize transit, passengers can book trips in real-time and use the app to pay online. The main goal of microtransit is to expand service geographically and demographically.
Pilot Programs
Several U.S. cities began pilot microtransit programs in the last six years. In Los Angeles, the L.A. Metro launched its "Metro Micro" on-demand service in December 2020 in two Los Angeles neighborhoods and has since added seven more zones. Metro Micro provides these shared rides for $1.
King County Metro in Washington State offers their Via to Transit, Crossroads Connect and Community Ride— all on-demand services. King Country Metro began piloting these services in 2020 and continued the pilot into a second year.
The Kansas City Area Transportation Authority launched a one-year pilot titled RideKC Bridj in 2016. In 2018, KCATA partnered with Johnson County, Kansas to launch RideKC in January 2019. Between January and July 2019, there were more than 12,000 trips.
Public transit agencies in Minnesota started to offer microtransit service as early as 2015.
Pros and Cons of Microtransit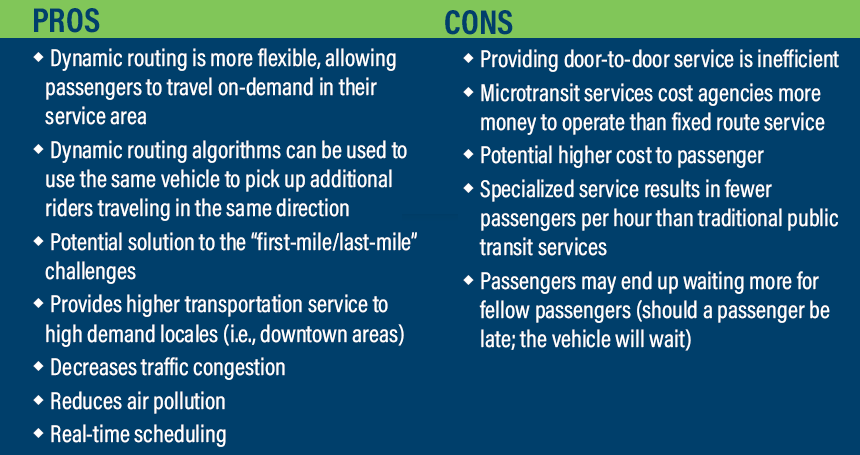 Microtransit in Minnesota
There are at least three public transit agencies offering microtransit in Minnesota. Two are located near the Twin Cities, and the third is in St. Cloud.
SouthWest Transit Prime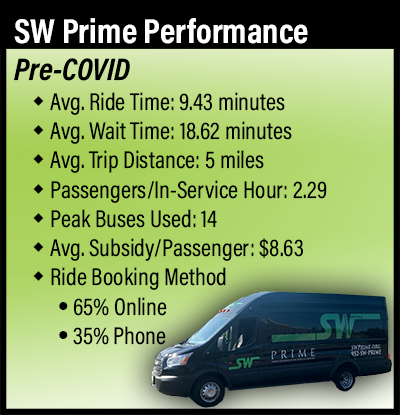 In 2015, SouthWest Transit (SWT) started Prime, the first service of its kind in Minnesota. Like other microtransit services across the country, this on-demand, curb-to-curb service uses scheduling software to book and route ride requests. Prime can be used throughout the SWT service area, which includes the southwestern suburbs of Minneapolis, and to limited locations outside the service area.
According to SWT Chief Operations Officer Matt Fyten, SWT saw a need for a lower cost local service option for riders and an increase in demand for first mile/last mile services.
"Prior attempts at traditional circulars/demand response services were cost prohibitive," said Fyten. "The use of technology, and a tech-savvy population allowed for this microtransit service to be provided with less staffing than traditional dial-a-ride service."
Fyten presented at the Minnesota Public Transit Association (MPTA) state transit conference in October 2021 and shared statistics for the service and lessons learned. The PowerPoint is saved on the MPTA website. He also was a guest presenter for MnDOT's Greater Minnesota Shared Mobility Program February 2021 "Microtransit: technology for better on-demand service" webinar.
Fyten shared that while Prime ridership dropped immediately with COVID-19, its ridership is recovering quicker than fixed route. As of late October, it up to 75 percent of pre-pandemic ridership.
"The pandemic required us to rethink the service," said Fyten.
A few of examples of how they changed service to regain ridership lost during the pandemic included starting a discounted "Grocery Getter Service" to promote ridership during off-peak times when capacity is greater, and it allows scheduled rides to and from the Shakopee area to promote ride batching. It also allows scheduled rides on its 494 Service with trips to Southdale, Normandale and Mall of America, as well as to the MSP Airport. The airport rides can be schedules up to 14 days in advance.
St. Cloud Metro Bus ConneX
In 2019, St. Cloud Metro Bus started trialing a microtransit service called ConneX. Like SW Prime, ConneX provides curb-to-curb service on demand. ConneX riders must call to request a ride.
"If approved more permanently, we would like to add app-based scheduling requests to the service," said Dave Green, Chief Operations Officer for Metro Bus. "It wasn't in the budget to invest in that technology for the trial."
The trial was initially scheduled to last six months but was extended to a year to collect more data. Then, due to COVID, it was extended through the end of 2022.
"Metro Bus started ConneX in response to ridership and access concerns on a fixed route that served Sartell," said Green. "The city is difficult to serve with a fixed route because of the spread of housing, lack of connecting streets and the fact that it is divided by a river."
Metro Bus assesses ConneX performance on a regular basis, reviewing:
Overall ridership
Hours of service
Transfers
Pick-up and drop-off locations of riders
Ridership by hour
ConneX ridership trends
Cost of the service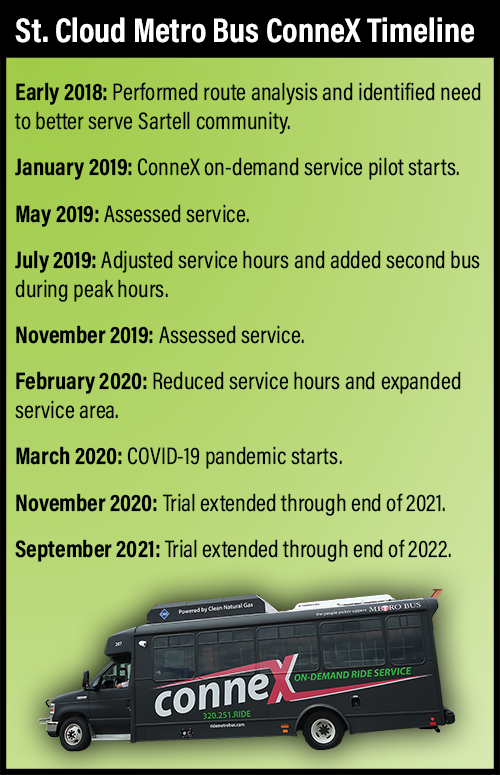 After the first assessment, the agency adjusted the service hours and added a second bus to meet weekday peak demand. After the second assessment, it reduced the service hours and expanded the service area to gain ridership while operating within a similar budget.
Because another route had expanded to cover some of the previous Sartell route, it was difficult to compare ridership between the two services. The agency attempted a fair comparison by estimating a conservative loss of transfers between the services and factoring the average decline in ridership in the current fixed route base system. They concluded that while ConneX ridership was not exceeding ridership of the previous route in a year-to-year comparison, it was exceeding the performance of the old route when they looked at the four most recent months compared to the same time the previous year.
Amid the COVID pandemic, ConneX ridership has increased 11.5 percent over the past year, while ridership on fixed route decreased 54 percent from FY20 to FY21. Metro Bus estimates that ConneX is at 86 percent of pre-pandemic ridership.
Green said the service has been well received by the public and Metro Bus will continue to analyze ConneX performance. They plan to make a final recommendation to their Board of Commissioners regarding the service by next September.
Minnesota Valley Transit Authority Connect
In June 2019, Minnesota Valley Transit Authority(MVTA) unveiled its microtransit program called MVTA Connect to serve the city of Salvage. Riders use the RideMVTA app to book their ride. Unlike some other microtransit services, MVTA Connect accepts cash payment upon pickup (exact fare required), as well as payment through their app. The service runs from 6 am – 7 pm, seven days a week and walk-on riders are permitted at certain pick-up locations.
According to a Star Tribune article, MVTA Connect was meant to fill in the gaps and reach riders that fixed route buses can't.
According to an article on the TransLoc website, MVTA Connect gives riders the opportunity to book trips anywhere in Savage, in addition to service to Burnsville Transit Station and Burnsville Mall by using the Microtransit app. Booking through the app provides riders with real-time ride updates as well as a predicted pick-up and arrival times. TransLoc is a Ford Smart Mobility company and its technology powered MVTA's piloted Connect program.
The on-demand service was expanded to Apple Valley and Rosemount in October 2020, and to the City of Eagan in October 2021.
Legislation
In January 2021, Minnesota Senate Bill SF 315 was introduced to establish a microtransit rideshare pilot program. The bill was very detailed, specifying four service areas, number and type of vehicles to be used and maximum ride times. This bill was referred to Transportation Finance and Policy Committee.
This article was published by RLS & Associates and MnRTAP
Resources
National RTAP has a webinar and PDF titled "What is Microtransit and How Can It Help Rural Mobility?" The webinar features best practices by panelists who launched a successful pilot program and the PDF breaks down the microtransit process.
Minnesota Legislature – Office of the Revisor of Statutes
Information provided by SouthWest Transit and St. Cloud Metro Bus staff, and Minnesota Valley Transit Authority and Transloc websites.
Star Tribune article "Minnesota Valley Transit Authority debuts on-demand bus rides in Savage," Star Tribune, June 23, 2019
Login to request a different date or venue for this course — or request a new course entirely.
---