Logged in users can view webinars from OTAT and RTAP on this page. You must be logged in to view past webinars and resources. If you have trouble logging in, please contact support@mnrtap.net.
Incident/Accident Response Best Practices Resources and Templates
Thank you to the incident/accident response local best practices working group who developed these resources. They are all working documents, so please email support@mnrtap.net if you have suggested improvements or additions to this list! 
Human Trafficking Resources
Crime and Human Trafficking Prevention for Smaller Transit Agencies: A resource center created in 2023 by the Community Transportation Association of America (CTAA), the Texas Transportation Institute (TTI), and the Southwest Transit Association (SWTA), this website has printable materials, podcast episodes, videos, training slides, and social media guides on human trafficking specifically designed for smaller transit systems.
MnDOT's Library of Resources on Human Trafficking: A list of organizations partnered with MnDOT and downloadable posters for transit systems.
Department of Justice: Human Trafficking Capacity Building Center: The Office of Justice Program's building center is a partner in human trafficking education, healing support services, and resource identification to Tribes and organizations working with Tribes. Their resource library includes a range of human trafficking resources in easily digestible formats including posters, tip sheets, one-page overviews, sample documents, and Q&As.
Online Courses
Posters
RTAP will print posters and mail them to you. Just let us know how many you need. Posters are ordered once a month to print in bulk, when possible. Email Mariah Kathan the number of posters you need and which poster(s) you want printed.
for your staff room: 
for your buses
Dash Stickers from Busing on the Lookout also available to order.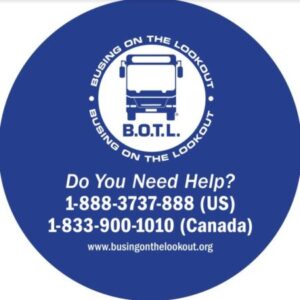 Contact Numbers
To report suspected human trafficking to Federal law enforcement: call 1-866-347-2423
To get help from the National Human Trafficking Hotline, call 1-888-373-7888 or text HELP or INFO to BeFree (233733)
Response Guides & Other Resources
Suicide Prevention Resources
Posters
RTAP will print posters and mail them to you. Just let us know how many you need. Posters are ordered once a month to print in bulk, when possible. Email Mariah Kathan the number of posters you need and which poster(s) you want printed.
Stickers: 2×2 inch stickers in English in Spanish that share the number for the Suicide & Crisis Lifeline. Also available to order from RTAP or directly from the Substance Abuse and Mental Health Services Administration (SAMHSA) for no cost.
Resource Libraries
TACL: The Transportation Technical Assistance Coordination Library (TACL) provides a sustainable methodology and platform for access and findability of rural and tribal transit coordination resources across a diverse range of transportation technical assistance centers and the Federal Transit Administration (FTA). Learn more and visit TACL here.
National RTAP Resource Library: National RTAP has extensive print, disc, and online learning resources available at no cost to transit systems. A few places to get started:
Every Ride Counts Volunteer Driver Campaign: These resources from the National Aging and Disability Transportation Center (NADTC) contain customizable social media messages, posters, and postcards to promote the accessibility and availability of transportation options for older adults, people with disabilities, and caregivers.
Connecting My Community Toolkit: The Transit Workforce Center (TWC) developed the toolkit to support public transportation agencies with templates and graphics that can be customized by each agency when advertising job openings for new transit-oriented employees. TWC supports workforce development and assists with the critical challenge of recruiting workers, especially bus operators and maintenance workers.
Organizations
Community Transportation Association of America (CTAA): Resources and e-learning for transit providers. 
Minnesota Public Transit Association (MPTA): Publications, event listings, and information related to public transit in Minnesota. 
National Center for Applied Transit Technology (N-CATT): Learning and planning resources for rural, small-urban and tribal transportation providers.
National RTAP: Online courses, webinars, and toolkits for rural and tribal transit providers. You will also find links to online courses offered through National RTAP on this website (Minnesota RTAP) in the training catalog.
National Transit Institute: Educational resources for the transit industry, including webinars, fact sheets, and resource guides.
Videos
Drug & Alcohol Awareness Video: FTA's video describes the effects and consequences of prohibited drug use on personal health, safety, and the work environment, and on the signs and symptoms that may indicate prohibited drug use. This video meets the 60-minute training requirements of section 655.14(b)(1) for covered employees.
Drug & Alcohol Reasonable Suspicion Video: FTA's reasonable suspicion video describes the physical, behavioral, and performance indicators of probable drug use and probable alcohol misuse to meet the requirements of section 655.14(b)(2).
Access Matters Videos: National Aging & Disability Transportation Center (NADTC) created a series of videos created to train drivers to be sensitive to the needs of people who are blind, deaf or have other disabilities who rely on public transportation to be independent in the community. Access Matters covers important topics such as communication, service animals, the importance of access and tips for serving people with a variety of disabilities.
Online Training
National RTAP eLearning Website: National Rural Transit Assistance Program (RTAP) eLearning also provides the required training in Part 655.14.
Webinars
Webinar: Five-Year Strategic Transit Plans: Using the Transit Plan Templates:
Webinar: FTA Calculating, Documenting, and Charging Operating Expenses Technical Assistance
Articles
Listening to Riders and Providers: A Synthesis Report on NADTC's Focus Groups and Stakeholder Meetings: Learn more from the National Aging and Disability Center (NADTC) about the transportation experiences of older adults, younger adults with disabilities, and caregivers.
MnDOT 2019 Sustainability Report: Report issued in July 2020, including data and statistics on Greater Minnesota transit.
Meeting the Transportation Needs of Rural Communities: Article by Peter Schauer on lessons that cannot be learned from urban transit. Published by the Transportation Research Board (TRB) news.