Spring Workshop 2023 Recap
Spring Workshop 2023 Recap
Published on: May 31, 2023
The 2023 Spring Workshop was held at the Best Western Kelly Inn in St. Cloud. Ninety-one people attended the workshop, with representation from transit agencies from across the state. Presenters included MnDOT OTAT staff, guests from other MnDOT departments, and transit agency staff. This year's event was planned by a committee comprised of volunteers from transit agencies, OTAT staff, and DRB Consulting, guided by feedback from agencies and OTAT. The combined PowerPoint of all the presentations can be found on the RTAP website here in PDF format. A copy of the agenda from the day is also saved on the website.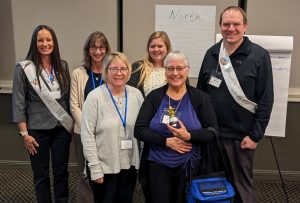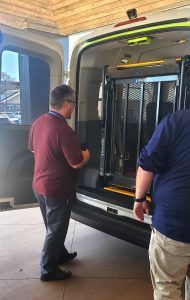 There were a few new features to the format of the Spring Workshop this year. At the end of the first day, agencies participated in regional breakouts. This was a time for agencies who work in a similar region or type of transit system (for example, Tribal Transit or Intercity Bus) to connect with each other and their TPM or OTAT contacts.
The second day featured small group breakout sessions with a twist — there were several to choose from and attendees could create their own! One group used this time for an Intercity Bus meeting; another agency used it for a staff meeting; Trailblazer Transit offered a glimpse of their new Smart-Ride vehicle. Meetings about vehicle ordering, the planning consultant, Low-No emissions vehicles, and OTAT's continuous improvement program generated conversations that continued after the session.
This year also featured new icebreakers to strategically connect people. On the first day, everyone was asked to sit by region. This was to help everyone, especially those new to transit, get to know their geographic neighbors. During introductions everyone was asked to share what they wanted to get out of the workshop, the length of their commute, and how long they have worked in transit.
Emcee Melinda Estey (OTAT's Training and Communications Program Coordinator) infused fun into the day by handing out prizes (such as plastic trophies, recycled swag, and treats/snacks) to Lori Van Beek, Moorhead Area Transit, for the most years of service, and Amy Nieland, Central Community Transit, for being the newest to transit (she was on her third day). Adam Roen of Arrowhead Transit, was recognized as a Transit Newbie runner up.  It was nearly a coin toss between Karen DeBoer, Southwestern Minnesota Opportunity Council, Inc. / Prairieland Transit; Nancy Ellis, East Grand Forks Transit; and Elizabeth Hensrud, Tri-Valley Heartland Express, for longest commute — each was about four hours, with Karen DeBoer's commute slightly longer than the others'. The  second day's morning icebreaker was a called "Bus-Go", a Bingo-like game that had many people moving around the room!
Staff from SMART/Cedar Valley Services and Community Transit presented on Best Practices for Incident/Accident Local Response. Their presentation included talking through scenarios in small groups at each table, followed by discussion with the larger group.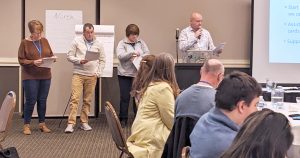 The templates and handouts used during the presentation can be found on the RTAP website here.  OTAT staff shared what is needed for reporting to NTD and outlined the Drug and Alcohol regulations; This guidance is included in the combined PowerPoint PDF.
The two-day workshop was jam-packed with content. There were updates about OTAT's Process Improvement project, vehicle ordering, BlackCat, and a transit route GIS project. There was also a legislative update from Margaret Donahoe, information about the state patrol / motor carrier's relationship with public transit, and a presentation about intercity buses and the history of Jefferson Lines by Bonnie Buchanan. Glenn Gadbois and Noel Shughart presented on An Agile Approach to Fleet Transit. They shared a way providing new service using pilot programs that operate in a continuous improvement model.
Thank you to everyone who participated in this year's workshop and made it a success! We hope to see you next year!
Links
If you have an interest in helping plan the 2024 Spring Workshop, or have ideas to share, send us an email!
Login to request a different date or venue for this course — or request a new course entirely.
---