Strategies to Combat Driver Shortages in the Transit Industry
Strategies to Combat Driver Shortages in the Transit Industry
Published on: September 29, 2022
A major issue employers are facing in today's pandemic world is employee shortages and the transit industry is no exception. Transit agencies are struggling to retain new drivers and finding it difficult to retain their current drivers. This article provides compensation data, as well as explores various possible solutions for transit agencies.
The Driver Shortage Struggle
The American Public Transportation Association (APTA) conducted a survey of public transit agencies in February, 2022 and released a survey brief titled Workforce Shortages Impacting Public Transportation Recovery on March 10, 2022, which contained data resulting from this survey. A total of 117 transit agencies responded to said survey. In that survey, 92 percent of agencies reported having difficulty in hiring new employees, while 66 percent of agencies expressed difficulty in retaining their current employees. While ridership has increased during the pandemic recovery period, some agencies are finding themselves having to cut back on routes or have been unable to increase service due to a lack of available drivers . In Minnesota, Metro Transit has had to make service adjustments on their bus routes and reduced service hours by 5 percent in response to a lack of drivers.
Reasons for Driver Shortage
There are a few reasons to account for the current driver shortage. During the past two years, many drivers decided to expedite their retirement. This is causing transit agencies to attempt to recruit the younger generation into taking driver jobs. Many new applicants are uninterested in becoming transit drivers due to low pay and the time it usually takes to move up the ranks to attain a better wage. The primary reason cited for the driver shortage is low pay. With employers such as Amazon, many drivers decided to take other jobs that required less in-person interaction and offered higher compensation and benefits. A current posting on glassdoor.com shows the starting rate of pay for an Amazon driver is at least $20.25/hour. According to Minnesota's Employment and Economic Development website, the median pay for a transportation worker is $15.42/hour. The median pay for heavy and tractor trailer truck drivers Is listed at $15.57/hour and light truck drivers are $23.60/hour.
In a compensation study conducted by RLS & Associates in 2021 for the State of New Hampshire, the difference in pay between CDL vs. non-CDL drivers, as well as transit vs. non-transit positions was quite significant, as shown in the charts below.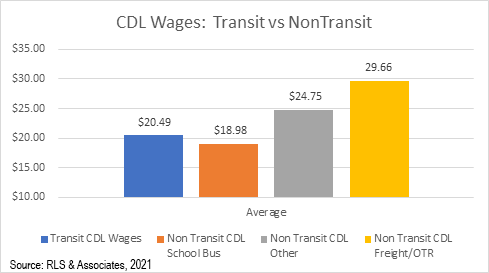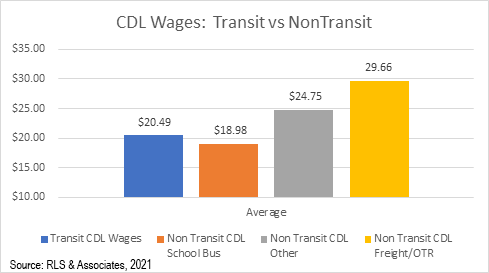 Along with the issue of compensation, transit drivers are struggling with more demanding schedules. A lack of staff results in current drivers having to take up the slack with longer hours.
Yet another reason for the driver shortage is the increase in driver assaults. While there isn't much solid data tracking driver assaults, the rate of assaults has dramatically increased over the last two years during the pandemic. Transit drivers have had to bear the brunt of passengers' anger over the issue of mask-wearing and the cost of fares during the economic downturn. In November 2021, Congress passed H.R. 3684 – Infrastructure Investment and Jobs Act, which in part now requires the formation of safety planning committees (Section 30012). However, the Federal Transit Administration has stated it will not enforce this requirement until the end of 2022.
Strategies to Retain Current Drivers and Hire New Drivers
While it is easy to understand the reasons for a driver shortage, finding solutions isn't as easy. However, transit agencies are implementing various methods to help with the driver shortage.
Recruitment
In the APTA survey published in March, 2022, 70 percent of agencies reported that employee recommendations/referrals was one of the most effective measures in trying to obtain new employees. Other recruitment measures include posting on social media (65 percent) and job boards (62 percent). Many agencies have also advertised on their websites in an effort to attract new employees.
Increased Compensation
To try to be competitive with the starting wages of such companies as Amazon, FedEx, etc., transit agencies have started increasing their level of compensation to entice new drivers. In addition to increasing base pay, many agencies have also started utilizing sign-on bonuses, as well as referral bonuses. Some agencies are trying a tier-level approach with signing bonuses, paying an initial sign-on bonus and then offering additional bonus amounts after the employee has worked a certain length of time.
Additional Practices
In their March, 2022 survey, APTA found that transit agencies were also trying the following best practices:
Separate tracks for hiring and training drivers: one track for candidates with a Commercial Driver's License (CDL) and one track for prospective employees without a CDL;
On‐site job fairs and hiring events;
Making hiring fairs a special event with food trucks;
Extending contingent offers to prospective employees prior to completion of background checks;
Focusing on recruiting potential employees with customer service backgrounds;
Streamlining and increasing the speed of recruiting and hiring to move people into jobs quickly; and
Expanding specific benefits such as student loan payback programs.
Conclusion
While there are no easy answers as to how to resolve the current driver shortage in transit agencies across the country, by trying new implementation efforts in the hiring process, transit agencies can work towards finding solutions. National RTAP has released a Transit Manager's Toolkit called "Drivers Recruitment, Training, and Retention" which outlines various best practices and suggestions for transit managers in their efforts to recruit (and retain) transit drivers. Additional resources are also provided below.
Resources
This article was published by RLS & Associates.
Login to request a different date or venue for this course — or request a new course entirely.
---