Usage of Electric Buses in the Transportation Industry in Minnesota
Usage of Electric Buses in the Transportation Industry in Minnesota
Published on: July 9, 2021
A growing trend in the transportation industry is the usage of electric buses due to the rising concern about increase in air pollution and the depletion of fossil fuels in North America. According to a global news wire article on Reportlinker.com, the United States is expected to lead the North American region in its demand for electric buses and, currently, there are approximately 650 electric buses in use in the United States. In 2019, there was a 37% increase in the usage of electric buses in North America from 2018.
Pros and Cons
There are obvious pros of utilizing electric buses, including:
Decrease in air pollution. By using electric buses instead of diesel and gas-powered buses, the exhaust emissions are eliminated thereby improving the air quality in our communities.
Electric buses will also significantly reduce greenhouse gas emissions.
There could also be financial benefits associated with maintaining electric buses, including decreased maintenance costs. It is cheaper to maintain an electric bus.
However, along with the pros, there are bound to be a few cons associated with the usage of electric buses.
Electric buses have a higher upfront cost. It is estimated that an electric bus costs two to three times more than a standard bus.
 Agencies who utilize electric buses also have to install charging stations.
There are limits to using an electric bus with a decreased route range. Recent electric bus models are averaging up to 225 miles per charge, meaning that the buses will have to be charged once a day for up to several hours. Because of this limited range, electric buses will not be sufficient substitutes for traditional buses on all route.
Additionally, the number of miles per charge is impacted by the geographical topography and weather conditions of the area.  Of particular interest to systems operating in Minnesota is: Consumer Reports reported in November 2020, "It's important to note that EV batteries lose range not because of how the cold weather affects the physical battery but because of the added power demands that come from operating the car in cold weather."
Electric Bus Usage in Minnesota
By 2023, five Minnesota public transit agencies are expected to have electric buses in their fleet.
The Duluth Transit Authority started with seven electric buses in 2018. The following year, Metro Transit in Minneapolis unveiled its first electric bus. In 2020, the City of Rochester and Arrowhead Transit were both awarded funding to purchase electric buses and charging stations. Morris Transit is the most recent agency with funding to purchase an electric bus.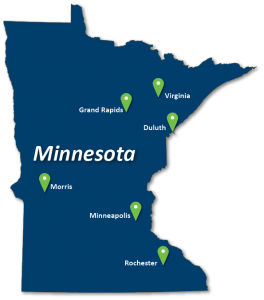 Metro Transit is running all electric buses on their C Line route in Minneapolis and Brooklyn Center. The goal of Metro Transit is to no longer purchase diesel-fueled vehicles beginning in 2022. Metro Transit has been purchasing their electric buses from New Flyer of America, which has facilities located in Saint Cloud and Crookston.
In 2020, the Federal Transit Administration (FTA) awarded the City of Rochester $3,156,746 in funding to purchase electric buses and the charging stations.
In 2021, Arrowhead Transit, the largest rural public transit agency in Minnesota, was awarded funding from the Minnesota Clean Energy Grant to purchase two electric, cutaway vehicles and two charging stations. The buses are in the procurement process, and they expect to have them in operation by mid-2022.
Arrowhead Transit may be the first public transit agency in Minnesota to operate electric cutaway buses. These buses are part of a pilot program to incorporate electric buses into their dial-a-ride fleet. One will run within the city limits of Grand Rapids, and the other in Virginia, where the agency is based. Charging stations will be located at the Grand Rapids terminal and at the maintenance facility in Gilbert.
"We selected these communities to pilot the electric buses because of their higher ridership and proximity to our maintenance facility, should any issues need to be addressed," said Sandra Wheelecor, a transportation manager for Arrowhead Transit.
The City of Morris will likely be the next agency to operate an electric cutaway bus. According to Beth Heinrich, Transit Supervisor, they were recently notified they were approved for the MnDOT Clean Transportation Pilot Program grant. The City of Morris plans to purchase one electric cutaway bus and two charging stations. It is early in their process, and the delivery date for the bus is not yet determined.
FTA Low or No Emission Program
On June 25, 2021, the FTA announced about $182 million in funding under the Low or No Emission (Low-No) Vehicle Program – 5339(c). The purpose of this competitive program is to provide funding to state and local governmental authorities to purchase zero- and low-emission vehicles and supporting facilities. The FTA's Technical Assistance section lists best practices and grant writing instruction for the Low-No program. Further, the FTA has a Q&A information page for more information regarding the Low-No program.
The increase in demand for the use of electric buses will continue exponentially over the next several years. It is the goal of several states to have a completely electric fleet of vehicles within the next two decades. Currently, there are only 5 states in the United States that do not have any electric buses in operation. Therefore, the expansion of electric bus usage in the transportation industry will continue to be a hot topic in the industry.
For those who are interested in learning more about the use of zero emission transit buses the Transit Cooperative Research Program (TCRP) published Research Report 219 in February of 2021 titled Guidebook for Deploying Zero-Emission Transit Buses.  The guidebook contains a wealth of research, facts, and information and can be accessed at: http://www.trb.org/Publications/Blurbs/180811.aspx.
This article was published by RLS & Associates.
Login to request a different date or venue for this course — or request a new course entirely.
---