MMDC Uses AARP Grant to Provide Transportation to Seniors and People with Disabilities
MMDC Uses AARP Grant to Provide Transportation to Seniors and People with Disabilities
Published on: April 30, 2023
Last May, the Mid-Minnesota Development Commission (MMDC) was awarded a $12,800 AARP Community Challenge Grant to help with social isolation and physical/mental health by reducing transportation barriers to community interaction among seniors and people with disabilities, especially those in care facilities, while increasing intergenerational connections.
The funds were used to purchase ride tokens and passes from Trailblazer Transit. The tokens and passes were distributed to care facilities who provided them to their residents. Along with the tokens, residents received educational materials that helped them connect with the transit ride they needed. Recipients were able to use the tokens/passes themselves or share them with friends or family who used them to visit them at their home or meet the recipient at a coffee shop, restaurant, community event, or other location. The grant benefited 18 care facilities/senior living communities and four child care centers. Almost 2,100 tokens and six monthly passes were purchased. The program ran July 2022 through May 2023.
"People were very appreciative both to try public transit for the first time or those who were already users of the transit buses," said said Terry Smith, Regional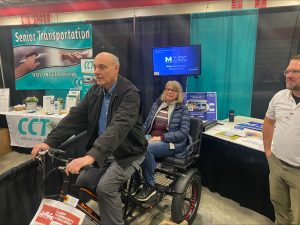 Transportation Resource Coordinator.
When the demand for bus rides was lower than anticipated, AARP allowed MMDC to adjust their plan and help fund micro mobility options for seniors in Olivia and Hutchinson. With the grant, they were able to purchase an electric assist trike for a residential community in Olivia and also help fund a "tri-shaw" for a senior living community in Hutchinson. Both of these units should be in service this spring.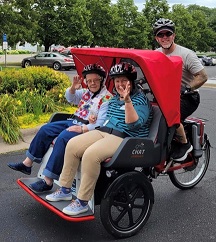 Terry said that because AARP was so flexible and easy to work with, they are likely to apply for funds from them again in the future. "We're very appreciative of AARP's assistance to help local seniors."
MMDC operates one of Minnesota's  Regional Transportation Coordinating Councils (RTCC).  RTCCs consist of stakeholders interested in improving mobility for "transportation disadvantaged" – older adults, individuals with disabilities, individuals with low incomes, and/or military veterans. They work together to improve coordination between transportation providers, service agents, and the private sector to fill transportation gaps, improve access
to transportation, and provide individuals more options to help them get around and fully participate in community life.
Login to request a different date or venue for this course — or request a new course entirely.
---