Motivating Employees in Tough Times
Motivating Employees in Tough Times
Published on: March 30, 2023
In today's pandemic society, many employers are struggling to hire new employees and retain their current employees.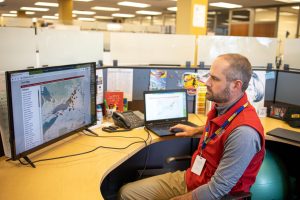 A CNBC article cites that the No. 1 cause of job dissatisfaction is "unfair treatment at work." This includes a work culture that lacks basic respect, acknowledgment, and recognition of its employees. The article also cites poor management or lack of management support being the link to employee dissatisfaction. Gallup released a report in 2022 titled "State of the Global Workplace." In this report, stress was found to be at an all-time high with employees. The Gallup report found that managers/team leadership accounts for 70% of the variance in team engagement. This means that a part of the solution to employee dissatisfaction is to have better managers/leadership.
Here are some suggestions for low-to-no cost solutions that can to help boost transit employee morale, while building a better connection between leadership and employees.
1. Recognition/Respect
Employees want to be recognized for their hard work and efforts. Simple things to express gratitude for employees goes a long way in helping the them feel valued. Examples include:
Meetings: If the agency doesn't already hold employee meetings, the simple act of setting up a meeting every so often shows that there is an open line of communication. These meetings can be the perfect time to show recognition for employees and allow them the opportunity to express themselves and have the chance to be heard.
Certificates: Agencies can also prepare certificates or "shout-outs" ("driver of the month" flyers) to post in an employee break room or in an agency newsletter/publication to recognize an employee's achievements or to recognize them for going above and beyond in their duties.
Special Events: Agencies can enroll their drivers in special driving events, such as a "roadeo." A roadeo event can allow drivers to show-off their skills and abilities and earn recognition. Agencies can also hold special events such as a barbeque or a banquet to honor their employees.
Compliment Board: Another recognition idea could be to have a "compliment board" in a public area or breakroom. The compliments received from passengers can be posted to recognize drivers.
2. Autonomy
When agencies have drivers and other employees who show they excel in their job performance, agencies can provide them with more autonomy and allow them to take on more responsibility and be a part of the decision-making process. By giving employees more autonomy, the agency is expressing trust in them, which in turn gives the employee a confidence boost and the ability to collaborate to be more productive.
3. Open Door Policy/Mentorship
Often employees are frustrated by the lack of communication coming from their employers. Employees often just want to "be heard." If the agency has an open door policy, this lets their employees know that the line of communication exists and gives them an opportunity to discuss any problems/issues they may be facing. When an agency not only listens to their employees, but also acts and does what they say they will, this lets employees know active measures are being put into place to give them peace of mind and make them feel they are in a collaborative environment. Another tool agencies can use is a mentoring program. Partnering employees with another colleagues within the organization helps them have a better understanding and respect for what each person's role is within the agency.
4. Training
Transit agencies can often find low to no cost training options for their employees. Training helps employees (both drivers and management staff) do their jobs better, which then results in higher self-confidence. Not only does training help with self-confidence, it can also allow employees to expand their skill set, giving them potential growth opportunity.  Minnesota RTAP and National RTAP have several online learning opportunities in addition to other training resources.
5. Teambuilding Activities
Agencies can set up teambuilding activities to help bring their team together. In order to try to promote physical health and wellbeing, agencies could set up yoga or exercise classes. For mental health and wellbeing, agencies could set up meditation sessions or activities such as coloring books or a book sharing club. Outdoor events could also be a good morale building option, such as an employee picnic or lunch/carry-in where everyone brings a food item.
6. Ask The Employees What They'd Like
Employers are the ones who decide what employee incentives to offer. What if agencies turned that around and simply asked the employees what incentives they would like? Set up a suggestion box for to collect employee ideas. The answers may surprise you.
There are various low-cost solutions agencies can try in order to improve morale amongst their employees. One thing is clear — there is a direct correlation between strong leadership/management and employee morale. Hopefully by being creative and trying to incorporate many creative ideas into an incentive program, agencies can build strong interpersonal relationships with and among their employees to build a happy, effective, productive team.
This article was written by RLS & Associates.
Login to request a different date or venue for this course — or request a new course entirely.
---