New Fixed Route in New Ulm, Ridership Continues to Climb
New Fixed Route in New Ulm, Ridership Continues to Climb
Published on: March 30, 2023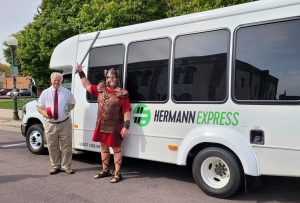 A new fixed route bus service, called the Hermann Express, kicked off in the city of New Ulm in October 2022. In its first month of service, it had 174 riders. Near the end of March 2023, the service reported 382 riders for the month with eight service days remaining for the month.
"The city of New Ulm, which backs this service, was adamant about offering free rides until April 1st," said Pat LaCourse, Brown County Heartland Express Transit Director. "The free rides encouraged people to stand outside and try the service — even during the coldest months of the year."

The fixed route service operates Monday through Friday, 7 am to noon, and from 1 pm to 6 pm, and Saturday it operates from 10 am to 2 pm. Effective April 1, fares will be $1 per rider, with $0.50 for pre-Kindergarten children (max two per adult). Veterans ride free with proof of service.
If it weren't for the collaboration between transit agencies, this new service may not have started until much later. A bus had been ordered for the new route and the production was delayed due to nationwide bus shortages. When Pat shared this dilemma at the Spring Workshop in March 2022, Gary Ludwig from Trailblazer Transit stepped in to help and sold them a used bus to get them started.
Pat also appreciated the work of Jill Brown PR, the marketing agency his transit system worked with. The marketing team recommended engaging the community in a naming contest. Over 100 suggestions were submitted by New Ulm citizens. The marketing agency designed the logo, rider's guide and the bus wrap for when the new bus is delivered.
If you would like to know more about this project, email support@mnrtap.net and we can connect you to Brown County.
Login to request a different date or venue for this course — or request a new course entirely.
---